High Court Hears Towing Case
By: , Tow Squad News. Published on:
Subscribe in a reader
Supreme Court Decision Could Signal Regulation Reform
WASHINGTON, D.C.  I The U.S. Supreme Court is scheduled to hear oral arguments today stemming from a towing dispute that ultimately could result in a landmark regulation decision effecting multiple industries.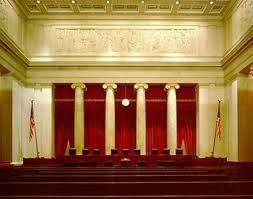 As Tow Squad News reported in December, the original case was born out of a 2004 involuntary transport at an apartment complex in upstate New Hampshire. According to court papers, the management had requested the removal of a Honda Civic after it violated their snow management schedule, required under rental guidelines.
The owner of the vehicle, Robert Pelkey, was seriously ill and bed-ridden at the time, and would ultimately be hospitalized.  While in surgery for a foot amputation, Pelkey suffered a heart attack.  As a result, his recovery and hospitalization became extended.
During this period, Pelkey's lawyer says he reached out to both the property owners and the tow firm involved, Dan's City Auto of Manchester.  He claims the tow shop told him the vehicle was scheduled for public auction two days later.
Court affidavits indicate that Pelkey, through his lawyer, requested the sale to be stopped.  The vehicle was ultimately sold to a third party, and no compensation was made to Pelkey.
Previously the case had been tossed out on grounds that lawsuits may not be brought in consumer protection cases against a "tow-motor carrier" per the FAA Authorization Act of 1994.  The New Hampshire Supreme Court struck down that decision, which the defendants are now appealing to the high court.
At stake is the greater issue of airline and trucking regulation, and whether the 1994 law should be interpreted to exempt those industries and others from certain state laws.
It is considered the first of two potential bellwether regulation cases before the high court this session. The decision could ultimately have longstanding and high-dollar repercussions for entires industries, and is being closely watched by numerous Fortune 500 companies.
It's an ironic twist that so much capital could henge on a car that was initially valued at less than $500.
__________________________________________
Want to share your own story?
Contact Us
or call 888-603-2599.