Battery Jump Start: 24/7 Car Battery Jump Start
Car Battery Jump Start & Replacement
The average car battery lasts between 36-72 months. Depending on the quality of the battery, climate around your driving courses and you're driving habits. Did yours just die on you and now you need a car battery jump start? Don't worry.
24/7/365 IMMEDIATE RESPONSE CALL 888-603-2599
Car Battery Jump Start & Replacement How-To
How Should I Jump Start or Replace my Dead Battery?
Let's face it, while no car should be on the road without jumper cables, there always seems to be a shortage of them when your battery goes dead. On top of that, most people don't even know how to properly connect them! Instead of risking getting shocked or damaging your vehicle call Tow Squad to provide you with a quick & safe car battery jump start service and bring that battery to life in no time at all!
Our tow truck driver will arrive quick, and make sure to properly make all connections before giving your car's battery the boost it needs. Even if you're in a place with restricted access, such as a parking garage, we'll get your car going with a Jump Box & provide the car battery jump start service to get you going. Don't slow down your day because your car battery is dead, call 877-TOWSQUAD today and we'll get you on your way!
Other 24/7/365 Roadside Services
Jump Start & Replacement Tips
Whether you have just forgot the lights on or your starter is just stubborn, the following check points will help you understand if you only need a car battery jump start service, or if it's time to replace the old battery:
A car battery jump start will help if:
The car battery is less than 2 years old
The lights-on switch and/or radio, and/or in-car light is on.
You hear clicking when you try to start the car
A car battery replacement is needed if:
The car battery is more than 2 years old
The lights-on switch and/or radio, and/or in-car light is off.
I don't hear clicking when I try to start the car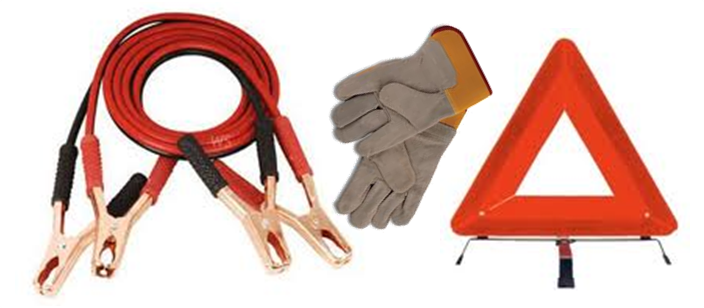 Standard battery jump-start kit
Battery Jump Start in The News