Road Rage in Tow
By: , Tow Squad News. Published on:
Subscribe in a reader
Camera Phones Capture Drama, But Not Always Full Story
PORTLAND l   Towing is a uniquely stressful occupation, where professionals work alongside deadly traffic conditions and angry vehicles owners all year long. Usually when issues of road rage arise in towing, it is from the other side of the counter – a customer who turns irate or unmanageable.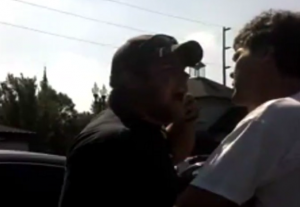 Two recent incidents, however, have changed that dynamic a bit, painting towing professionals as the more unhinged party, and playing into the notion that the industry is clogged with angry and incompassionate types, ready to tow first and ask questions never.
In a time where just about everyone carries a cellphone equipped with a video camera, incidents where people lose their temper can go viral overnight, and forever taint reputations.
Shop owners can now find their entire enterprise being judged by the actions of one employee at just a single moment in time. That shortsightedness may be wildly unfair, but it is a new reality of the times we live in.
In Oregon this past week, an encounter between a towing operator and a business owner wound up being recorded, and in the aftermath a tow shop owner was left rebuilding his company's name while his driver was left looking for another job.
The shop in question was 3 Boys Towing out of Portland, who'd dispatched a young driver to handle a vehicle stalled with mechanical difficulties. When the tow driver suddenly shouted and cussed at an elderly woman during the hook-up, a nearby business owner stepped up to handle the situation.
Instead of backing down, the driver turned his profanity-laced tirade at the business owner, all while being videotaped by someone standing nearby.
The escalating outbursts of anger displayed by the towing operator were, no doubt, what gave the story such traction in the first place. The incident was covered repeatedly in and around Oregon, and got picked up by several national news outlets.
3 Boys Towing owner Mike Heslen told KGW-News he was mortified by his employee's behavior, something he does not condone and will not allow. The employee, who'd only been with the shop for about two months, was fired.
It's worth noting that in many cases involving cell phone videos, the full narrative can be lost or skewed based on what happened before or after the actual videotaping. This can sometimes leave viewers with only the more dramatic elements of a fuller picture. 
The story of an unhinged towing operator surfaced again later in the week when a driver near Racine, Wisc. became angered that his tow truck was being repeatedly blocked in by the same neighbors. When he decided he'd had enough, the driver smashed his way out by colliding with the two cars parked in his way. He was subsequently arrested.
Fernando Hernandez, 32, could face up to 14 years in prison if convicted on all counts, which include damaging property and endangering public safety. While it is unlikely that he will receive that stiff of a sentence if convicted, the punishment and judgments made against tow companies involved in such incidents can be just as harsh.
Customers have long memories, and in an industry where our professionals are constantly second-guessed, towing companies who fairly or unfairly get a bad reputation can pay the price for years to come.
Shop owners might save themselves a headache by regularly reminding staffers that while tempers are temporary, cameras are now everywhere – and bad behavior can be easily recorded, shared and immortalized.
Keeping emotions in check should be standard operating procedure.
More of the latest in towing news....