Tow Yard Dog Killed By Deputies
By: Erez Kanaan, Tow Squad News. Published on:
Subscribe in a reader
Deputy: Animal Was 'Lunging'
When Weapons Discharged
SACRAMENTO, CA – The decision of two California deputies to discharge weapons during a burglary investigation at an area tow yard is under review after the owner's dog was shot and killed Sunday.  The officers claim the animal had lunged toward them, justifying the use of deadly force.
The officers were with the Yuba County Sheriff's Department.  Their jurisdiction is just north of Sacramento.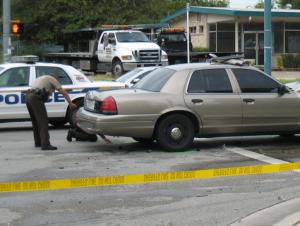 The dog, named Emily, was a Queensland heeler.  The breed has historically been bred for herding cattle, and are not typically thought of in terms of aggression.  
Owner Ruben Clement called police response "totally unreasonable."
The burglary being investigated was at Clement's C&F Towing of Olivehurst.  The property has experienced over a dozen break-ins in the past year, leading to stolen vehicles and office equipment.  Thieves have repeatedly been able to use an adjacent property to slice through the yard's security fence.
While the unnamed deputies were taking a report of the incident, they were approached by the dog who may have escaped the perimeter after a hole was cut in the gate.  It is unclear if officers knew that Emily belonged to the yard owner.
"They said she was lunging at them," Clement told the Associated Press.  "But she's never bit anyone.  She's as gentle as can be."
Clement has had the dog four years, since she was a pup.
"She'd been part of the family," Clement explains.  "If they were concerned (about their safety), they should have stayed in their car and called my driver."
Yuba County Sheriff Steve Durfor says the matter is under review, and the appropriateness of the offier's actions "has yet to be determined."
The sheriff personally called the shop afterwards to express his condolences to Clement, but is awaiting the investigation before determining how to proceed.
"I'm not passing judgment," he said of the shooting, "If we do find that it was not a reasonable use of force, we will take it seriously."
_________________________________________
Want to share your own story?
Contact Us
or call 888-603-2599.