Tow Shops Unknowingly Help Car Thieves
By: , Tow Squad News. Published on:
Subscribe in a reader
Some Vehicles Ultimately Wound Up Demolished
CHURCH HILL, VA – Towing professionals have been unwittingly used in a string of unsolved car thefts near Richmond.  In at least twelve cases, individuals posing as an owner either sells the vehicle to a salvage yard on the spot or has it towed elsewhere.
"I would say it's happening honestly throughout the entire area," said Detective Clyde Lindsey, who is leading the investigation.  He spoke with NBC-12 in Richmond.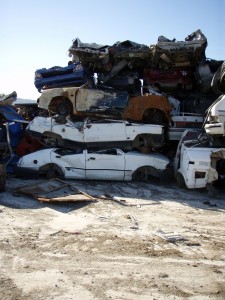 According to Lindsey, the towing professionals involved were unaware of the criminal activity, which appears to be organized of at least a small group of accomplices.
"The tow truck drivers are just obtaining that person's information and having them fill out some paperwork," he explains.
The investigation has traced some of the vehicles to salvage yards, also thought to be unaware of the thefts.  An undisclosed number wound up being demolished.
"I would definitely be pretty upset,"  said Church Hill resident Chris Whiting.  "It's a real sad thing that's happening, and I hope it can be stopped."
Police are encouraging owners to protect themselves by not storing their titles inside the vehicle.  They also suggest immediately reporting missing vehicles, even older ones, to police.
"The longer you wait to report the vehicle stolen," Lindsey said, "the less likely the chances are of locating your vehicle before it's been demolished."
Area tow shops and salvage yards are assisting police to hopefully track down suspects.  No arrests have been made.
__________________________________________
Want to share your own story?
Contact Us
or call 888-603-2599.