Railroad Crossing Keeps Snaring Rigs
By: Erez Kanaan, Tow Squad News. Published on:
Subscribe in a reader
Means Occasional Calls For Kluttz Towing
CHARLOTTE, NC  I  In a small North Carolina town, one particular railroad crossing with a somewhat severe grade has been catching tractor-trailers almost like flypaper.  Every few weeks, despite the warning signs, a driver will get his rig's landing gear caught on the tracks where the road crests.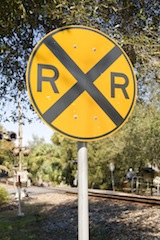 In Granite Quarry, a town of roughly two thousand residents, the intersection at North Main Street and West Bank is a regularly used connecter, right off from Highway 52.  It's not exactly the center of town, but it might as well be.
So when an 18-wheeler becomes lodged on an active set of railroad tracks amdist the heart of local traffic, it causes quite a few headaches in Rowan County.
That was the case on Tuesday afternoon when an Averitt Express truck got entangled, and could not generate the momentum to either clear the tracks, or reverse back off.
When this happens, the first priority is contacting the railroad liaison to halt all rail traffic on that line until the scene can be cleared.  So far there have been no real close calls, but local leaders don't want to rely on that luck.
Town officials have been conferencing with the Rail Division at the NC Department of Transportation, looking for a means of changing the grade at the intersection.  Removing the crest will solve the problem, but will effect area traffic considerably during the change.
As it did Tuesday when the Granite-Faith Joint Police closed the intersection, detouring traffic away from the site.
A crew from Kluttz Towing got the call this week, as they have in the past. They quickly got the tractor-trailer hooked up and stabilized, pulling it clear of the crossing. 
Nearly every time this has happened, the drivers blame their GPS units, saying they were directed along that route.  
Ultimately the driver was not cited Tuesday, instead given a verbal warning.
As for the changes that could resolve the recurring problem, The Salisbury Post reports those efforts are currently on hold.
According to Town Manager Dan Peters, "We are waiting for the environmental impact study now."
If your vehicle becomes disabled, contact Tow Squad for fast roadside assistance.
__________________________________________
Want to share your own story?
Contact Us
or call 888-603-2599.