Roadside Assistance - Provided
24

hours a day,

7

days a week,

365

days a year!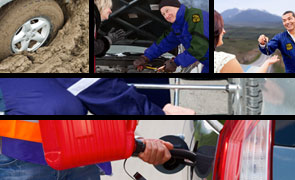 24/7/365 Roadside Assistance Services
Whether you are in need for gas delivery or your tire just blew out Tow Squad got you covered. Offering complete roadside assistance solutions to get you back on the rode in no time, free of interruption, day or night, every day of the year, rain or shine.
24/7/365 IMMEDIATE RESPONSE CALL 888-603-2599
Road Services Offered and Roadside Assistance Tips
Road Side Assistance Services
Our service technicians know all the solutions to those annoying situations that can land you stranded, so relax, we'll fix the problem. You left your lights on and your car battery died? No worries. Your truck runs on diesel? Not an issue. You just don't feel comfortable changing your tire on the side of the freeway? We understand.
Our drivers are fully trained to solve your roadside assistance problem in no time, and carry the equipment they'll need to get your vehicle running again. Don't go through the hassle of a tow to the auto shop, we come to you, and assist your roadside assistance situation quickly, safely, and professionally. All of our drivers are fully licensed and insured, so call one of our agents at 877 – TOW SQUAD and get moving again now!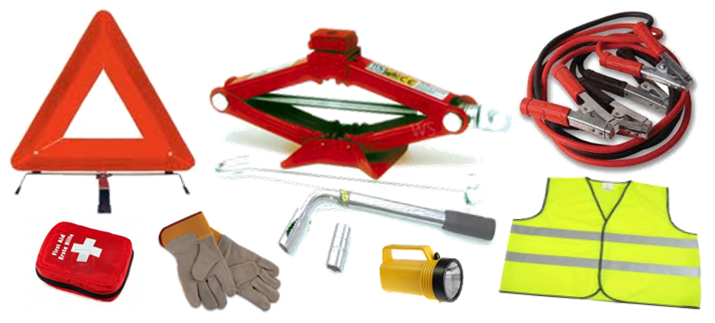 Standard Roadside Assistance Kit
Roadside Assistance - What To Do:
Sometimes your automotive roadside assistance problems can be solved without getting a tow all the way to the shop, just remember these tips to insure that we can solve your problem on the spot:
Make sure to provide all necessary information to the Dispatching Agent you speak with, sending a service truck out for a tire change is pointless if you have custom rims and you don't have an extra key

If your vehicle is stuck, and you can't get out, make sure to accurately describe the roadside assistance situation, so we can make sure to bring the proper equipment to winch it out and not cause any further damage to the vehicle

If you have already tried jumping your battery today, a jump start from our service provider probably won't work either. Consider a tow, and our driver can recommend a place to get you a battery if needed

If you're out of gas, make sure to specify what kind of fuel your vehicle needs (i.e. 87, 89, 91), and if you need diesel, let us know!

Remember, if you're unsure about what is wrong with the vehicle, our driver can take a look on scene, and provide the roadside assistance service best fit for your situation
Roadside Assitance
News on Roadside Assistance