Party Bus Tow Leads To Macing
By: , Tow Squad News. Published on:
Subscribe in a reader
Tow Op Arrested Under Unusual Circumstances
ORLANDO – Police in Florida have arrested a towing operator just moments after he and a co-worker were sprayed with mace by the owner of the vehicle they were transporting.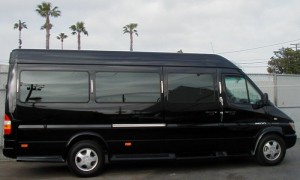 It began when the driver of a luxury party bus parked that vehicle in a private lot along Orlando's famed I-Drive.  While his customers were inside a nearby restaurant, driver Nate Nelson of VIP Limo says he left the vehicle for about ten minutes only to discover it being towed upon his return.
International Drive is a main artery of tourist traffic in Orlando, and as such is strictly patrolled for violation vehicles.  The incident occurred just south of the Universal Studios attraction. 
Riker's Roadside Service is the area firm contracted to patrol the private lot in question. Operator Gregory Nickerson reported to police that he was driving away when he felt someone jump into the bus being towed.
Nelson says he tried to wave down the departing driver, but failing that, jumped into the cab of the bus and applied the brakes.
"I chased after him, told him to stop," Nelson tells WFTV News. "And then after he saw me, he just kept going."
Once stopped, Nelson says he offered Nickerson $50 to release the vehicle. In Florida, towing operators are required to release a secured vehicle if the owner is on site and offers a "reasonable service fee" not to exceed half the posted tow rate.
Nelson told police he suddenly "feared for his safety" when a second employee from Riker's arrived. This is when authorities say Nelson maced both operators, shortly before Orange County Sheriffs Deputies arrived on the scene.
At dispute is whether $50 is a reasonable fee for releasing such a vehicle.
According to the company's website, their Mercedes bus is equipped with 2 large flat screen TV's, a fiber optic mirrored ceiling and rear wall, a removable dance poll and seating for 20 passengers.
Nickerson was charged with not releasing the vehicle, a felony in Florida, and subsequently taken into custody. According to the Orange County Clerk of Courts website, he was issued a bond of $2500.
__________________________________________
Want to share your own story?
Contact Us
or call 888-603-2599.