Prison Bus Plows Into Accident Scene
By: , Tow Squad News. Published on:
Subscribe in a reader
Two Tow Operators Injured Clearing Wreckage
SAN ANTONIO – A prison transport bus collided with a parked tow truck along I-45 last month, injuring two tow operators who were clearing a scene.  The Houston Chronicle reports that both men were hospitalized.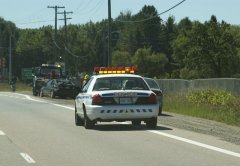 Just before 3a.m. a Texas Department of Criminal Justice transport bus was carrying prisoners back to the Alfred D. Hughes unit in Gatesville, traveling along Interstate-45.
On the same stretch of road, two tow operators were clearing debris.  The drivers, both of Drake's Towing & Recovery were on site to clear an earlier accident early Friday morning.
Without warning, the prison bus careened headlong into one of the tow vehicles, which struck both men.

One driver was taken to the intensive care unit in Conroe with injuries to two vertebrae, along with broken toes and fingers.   The second driver was rushed to a hospital in Houston, his condition later was listed as critical.
Of the 23 inmates aboard the prison bus, only six sustained undisclosed injuries.  The injured bus passengers, including three guards were taken to area hospital.
Approximately an hour before the crash, two tractor-trailers traveling northbound had collided, killing one driver.  The tow operators were clearing the aftermath from that scene when they were struck.
A team member at Drake Towing told Tow Squad News that while neither driver has yet returned to work, they are each recovering and plan to. She said, "They're still with us.  It was bad but it could have been a whole lot worse."
__________________________________________
Want to share your own story?
<a href="https://www.towsquad.net/contact-us" target="_blank" title="Contact Us Here">Contact Us</a>
or call 888-603-2599.