Owner Arrested Removing Vehicle From Flatbed
By: , Tow Squad News. Published on:
Subscribe in a reader
Damages Traffic Enforcement Vehicle in Process
SAN FRANCISCO – A California man is facing vandalism charges after trying to forcibly  remove his car from a flatbed tow truck in the process of its removal.  During his attempt, the man damaged both the flatbed and his own car, as well as government vehicle nearby.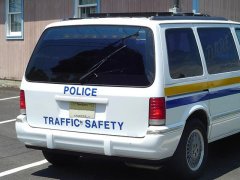 The request for the tow was official, having been dispatched by a city parking officer.  According to police, the vehicle in question, an Audi, was illegally parked and blocking traffic.
On the evening of Nov. 19, an unidentified towing professional had secured the Audi to the flatbed and was driving away from the scene.  Suddenly two people, a man and a woman, blocked his truck's path.  The woman allegedly stood her ground as the man attempted to retrieve the car.
"The owner told the female to stay in front of the tow truck while he went around and got in his Audi," the police report stated.  "The suspect then started the engine and attempted to reverse off of the tow truck."
Police say when the owner attempted to accelarate away from the flatbed, his still partially attached vehicle dragged the flatbed several feet.  This is when the Audi struck a Department of Parking & Traffic vehicle, presumably the one driven by the ticketing officer.
When San Francisco Police arrived, they reported finding a group of people on the sideway yelling at one another.
The owner was arrested at the scene on multiple vandalism charges.