Do-It-Yourself Tow Leads to Triple Arrest
By: , Tow Squad News. Published on:
Subscribe in a reader
Alcohol A Factor In Bizarre Recovery Effort
CLARENCE, NY – Police in New York have charged two allegedly impaired drivers after they attempted to crudely tow away a damaged vehicle from an accident scene.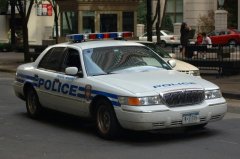 According to investigators, William Timmons and Karl Struebel were each arrested when police discovered the pair using a Jeep and tow strap to recover Timmons' car.  It had been badly disabled following a one-car accident just an hour prior to the arrest.
Timmons, 20, allegedly called Struebel, 21, to assist in retrieving the vehicle.  A state police representive told Tow Squad News that both men were clearly intoxicated at the time.
Timmons recorded a .18-percent blood-alcohol level following a breatalizer, twice the legal limit.  Struebel's result was listed as .13-percent.  Each now face multiple traffic violations, as well as the DUI charges.
A third man riding in the disabled car being towed was also arrested for marijuana possession    
Clarence is located in the western half of New York state, just outside Niagara Falls.
__________________________________________
Want to share your own story?
Contact Us
or call 888-603-2599.