NY Tow Op Pinned By Wrecker
By: , Tow Squad News. Published on:
Subscribe in a reader
Truck Slid On Icy Surface
BUFFALO, NY – A towing operator in the small town of Arkwright, N.Y. was injured Saturday when he was pinned by his truck attempting to winch a vehicle from a roadside ditch.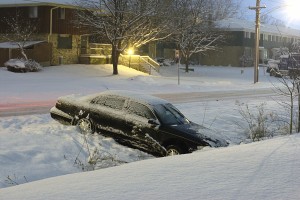 David Overstreet, 39, received the dispatch just before midnight Saturday from Mancuso's Service Center, according to the Chautauqua County Sheriffs Department.  
Icy roads likely contributed to the incident.  While attempting to winch the stranded vehicle, Overstreet's wrecker began to slide backwards.  It quickly pinned him between the truck and the bank of the ditch.  
Witnesses immediately called for help, and two area wreckers responded to the scene.
Sand was put down to help stabalize the two wreckers handling the recovery, as well as the one pinning Overstreet.  Medics worked to keep him warm and stabilized throughout the maneuver.
Once extricated, he was transported to Brooks Memorial Hospital in Dunkirk with unspecified injuries.  
__________________________________________
Want to share your own story?
Contact Us
or call 888-603-2599.