Early Winter Work in Grand Rapids
By: Erez Kanaan, Tow Squad News. Published on:
Subscribe in a reader
Area Tow Op Tailed For News Segment
GRAND RAPIDS, Mich. – Towing firms around Kent County, Michigan were suddenly hit with a surge of business after snowstorms blanketed the region the last few days.  The number of accidents and injuries quickly piled up.   There were no fatalities.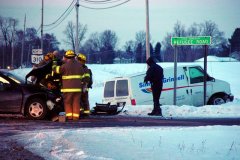 Sunday afternoon snow fall and ice accumulation was beginning to effect drivers, both in terms of visibily and road traction.  Police scanners began buzzing with more and more accidents occurred as the sun continued to set.
At Shaner Avenue in nearby Courtland Township, the driver of a pickup sustainted a life-threantening head injury after he slid into oncoming traffic and struck another vehicle.  He was transported to Spectrum Butterworth Hospital.  The occupants of the other vehicle were uninjured.
Meanwhile on Emery Drive, a 16-year-old female lost control of her truck, flipping it on its side where it slide into a Volvo.  The truck driver sustained head injuries while the Volvo's driver recevied a broken ankle and possible concussion.  Another passenger broke a wrist and dislocated a hip.  Two other passengers were also admitted to an area hospital.  The injuries are not thought to be life-threatening.
Covering the local traffic difficulties, Fox17's Morgan Bond spent the day Monday riding along with an area tow operator on dispatch calls.  Ryan Kwekel has been towing for the past 5 years with Walker City Towing in Grand Rapids.
During the first two calls they encountered overturned cars in ditches and at roadside.
Kwekel advises drivers to remember how important it is to clear trouble scenes away from the flow of trafic.
"If you get in an accident," he says, "Move your car off the road into a parking lot or someplace safe, so that you`re not in harm`s way."
SEE FOX 17 SEGMENT HERE:
__________________________________________
Want to share your own story?
Contact Us
or call 888-603-2599.