Jersey City Offering Free Tows To Victims
By: , Tow Squad News. Published on:
Subscribe in a reader
Up To 15-Days Courtesy Storage
JERSEY CITY, NJ – As thousands of damaged and totaled vehicles await an insurance adjustor following Super Storm Sandy, officials in Jersey City announced some relief for their owners.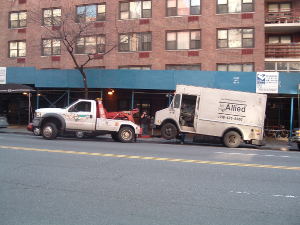 The city will offer a free tow, along with up to 15-days of free storage, to allow motorists to get their vehicles moved.  Officials said in a statement that this allows ample time to arrange for an adjustor to make a determination on its value.
After the 15-day grace period, a daily storage fee of $30 will be applied.
Many insurance companies are allowing for expedited determinations, with adjustors quickly classifying countless vehicles as complete write-offs.   
Jersey City is essentially part of the greater New York City metropolitan area and suffered a major brunt from hurricane winds and storm surge walls of water.  This left behind fleets of disabled, irreparable vehicles of all types and sizes.  
Jersey City had suspended parking regulations following the storm three weeks ago.  Those regulations go back into effect today.
__________________________________________
Want to share your own story?
Contact Us
or call 888-603-2599.