Unprecedented Recovery Effort Ongoing
By: , Tow Squad News. Published on:
Subscribe in a reader
Hundreds of Thousands of Vehicles Damaged or Destroyed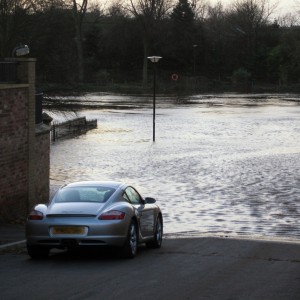 LONG ISLAND, NY – More then two weeks after Hurricane Sandy brought unprecedented storm conditions to the Northeastern coastline, the effort of vehicle recovery continues with equally extraordinary numbers. Many firms are still operating around the clock, with no end in sight.
At Tumino's Towing of Ridgefield Park, New Jersey, owner John Tumino describes the demand as "crazy."
"I've heard reports of 250,000 cars damaged or destroyed," he told TheTrucker.com.
"Hundreds of trucks were damaged, and that's just at the Port."
BOATS AND SHIPS WASHED ASHORE
Likewise, many coastal areas are clearing various forms of water crafts from their communities  Yachts and fishing boats have wound up in back yards and intersections.
In Long Beach, NY a team of shop owners have combined their efforts to help clear larger boats, many headed for a salvage yard.  Some might see open water again, depending largely on how well they rode out the waves. Others were swamped, completely submerged or battered beyond repair.
James Modzelewski runs Modzelewski's Towing & Storage in Danbury, Conneticut, about two hours away from Long Island. When he received a call from Joe Calvagno of All County Towing in Freeport, they teamed with Eric and David Fouquette from the Massachusetts firm Big Wheel Towing & Recovery.  The team began jointly recovering a wide assortment of seafaring crafts.
"We worked in the marinas to get them situated," Modzelewski says. "It was crazy, it looked like someone took a bulldozer and just piled the all together. It's a mess, but it's getting more organized then before."
Modzelewski opened his shop in the business district of Danbury in 2002, and likely did not anticipate much business by way of hurricane. He's quick to stress the teamwork involved from his partners since they began, no doubt helping large recovery move much more quickly.
"We can tow anything from a wheel barrow to an airplane," he says, quoting his company's unofficial catchphrase. In the post-storm climate of Sandy, that type of flexibility is probably proving very useful.
When Tow Squad spoke with Modzelewski, he and the group had just finished securing a 39-foot. motor yacht with double rotators. The boat's height rises to 17-feet.
The team continues ahead, working long days away from home in near-freezing temperatures. Their sacrifice is clearly appreciated from people who have suddenly seen much of their lives turned upside down.
"They're actually pretty happy to see us," he says.
FREIGHT AND REPAIR SLOWED BY LOGISTICS
Among the devistation also remains a tremndous number of freight and industrial eqipment, from tractor trailers to fork lifts and car carriers. Whether heavy rescue or standard hook ups, the salt water may present unforeseen hazards down the line.
John Tumino says, "The problem is that nobody knows what the long-term effects will be. Some drivers will experience problems later, especially if they don't check wheel seals and any place fluids or grease are supposed to be."
"Some units were rolled over by waves or water currents," he added. "And some damaged by other vehicles or storm debris moving in the water."
Also complicating efforts are the extensive blackouts, some still being repaired in outlying areas and in the heart of the destruction. This lack of electricity has slowed the supply chain of auto parts to many areas, in some cases for well over a week.
"Many of our customers are owner-operators who can't afford to shut down for long," Tumino said. "We're working around the clock, but we can only get to so many."
__________________________________________
Want to share your own story?
Contact Us
or call 888-603-2599.