Charging For The Right To Tow
By: , Tow Squad News. Published on:
Subscribe in a reader
Companies Would Pay For Police Business
TRENTON- In Salem City, NJ, officials are considering a new policy to essentially tax the local towing community as part of a larger effort to pull the city out of debt.  Shop owners will have to pay to be among the town's list of contracted companies, as well as a new per-vehicle handling fee.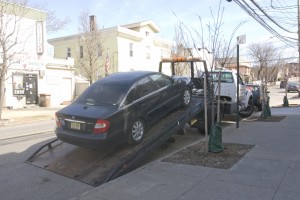 In order to receive dispatch requests from local police, each company would be required to pay $300 every two years.  A new administrative fee of $20 would also be applied for each vehicle towed.
Located near the western Jersey shoreline, Salem City has a population of only around 5,000 residents.  Officials estimate that the town only issues around ten tow requests per month, leading some to question the profitability of such an arrangement.
According to City Council President Karen Tuthill, the idea for the proposed changes arose during a meeting with state Department of Community Affairs officials. It was one of several possibilities discussed to help reconcile the city's debt-ridden budget over the next five years.
"It's small," Tuthill conceeded, speaking with the South Jersey Times, "but it's a line of revenue that hasn't existed for the city."
A public hearing is scheduled for Dec. 17 before the motion is voted on by the council.
__________________________________________
Want to share your own story?
Contact Us
or call 888-603-2599.