Arrests After Tow Driver, Cruiser Struck
By: , Tow Squad News. Published on:
Subscribe in a reader
Alcohol Suspected As Contributing Factor
OKLAHOMA CITY I  Police arrested two people in Oklahoma late last week after their car crashed into a police cruiser, striking a towing operator working roadside.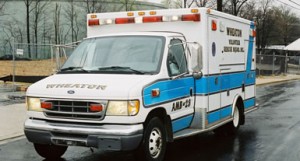 In McLoud, Oklahoma on Thursday, police put out a wrecker request on Interstate 40 to help a disabled driver. Shortly after he arrived on scene, the towing operator was struck by a vehicle swerving through the work zone, causing a compund fracture to his leg.
Reserve Officer John Burroughs of the McCloud Police Department saw the vehicle impact the tow driver and then turn in his direction.  He was able to leap out of the way just before it collided with his cruiser.  Burroughs also injured one of his legs, though not as seriously.
Both the driver and his passenger were arrested, with McLoud Police Major Carol Pendley commenting that, "alcohol was suspected as cause of the crash."
Oklahoma Highway Patrol is now investigating the incident, with more charges to possibly follow.
The name of the towing operator was not released, though his injuries were not life-threatening.  He was treated and released from OU Medical Center in Oklahoma City. Officer Burroughs was checked out at St. Anthony Shawnee Hospital and quickly released.
The incident occurred around 8 p.m. with no major visuality issues.  Reportedly both the tow truck and the police cruiser had their bar lights flashing when the collision occurred.
The McCloud police cruiser was totaled in the impact.
When your vehicle is disabled, contact Tow Squad for fast roadside assistance.
__________________________________________
Want to share your own story?
Contact Us
or call 888-603-2599.