Baby in Tow, Parents in Cuffs
By: Erez Kanaan, Tow Squad News. Published on:
Subscribe in a reader
Near-Freezing Temperatures When Discovered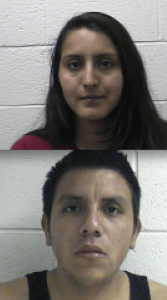 JOHNSON CITY, Tenn  l  Both parents of an infant discovered sleeping in a towed vehicle were arrested Sunday and charged with neglect. The vehicle was reportedly parked outside a Johnson City bar around 2 a.m. at the time of the transport.
The unidentified towing professional who removed the vehicle only discovered the child upon arriving back at the tow yard. He told police he had not seen the child during hook-up, but that he spotted it in the front seat while releasing the car.
The parents, Gonzolo Campos-Molina, 22, and Violeta A. Arroyo, 24, were each charged with abuse and child neglect, taken into custody on a bench warrant at their home several hours after the discovery of the 13-month-old child.
When police first arrived at the yard, they popped the car and secured the baby. Meanwhile the tow driver had returned to the spot he'd removed the car from in an attempt to locate the parents.
Parents and child were reunited at the tow yard, where police were quick to ask for an explanation.
According to the arrest report, the parents indicated they'd both stepped inside Numan's Bar to meet up with someone, and were only away from the infant for a matter of minutes.
The parents reportedly told investigators that they had, in fact, left someone to watch over the child while they were inside the bar. Each parent, however, allegedly offered up a different name for the person they said was watching the baby.
Hours later, police would determine they had enough evidence for an arrest. Also noted in their report is the fact that an open beer container was discovered in the front seat area of the vehicle.
The temperature in Johnson City at the time of the discovery, according to court filings, had dropped into the low 30's.
Following their arrest, each parent was initially held on a $10,000 bond. 
__________________________________________
Want to share your own story?
Contact Us
or call 888-603-2599.
More of the latest in Towing News