Lodar Expands U.S. Distribution
By: Erez Kanaan, Tow Squad News. Published on:
Subscribe in a reader
Providing Remote Control Units Since 1988
HENRIETTA, Tex  l  Lodar, the U.K.-based company that brings wireless remote control to winching work has announced their expansion into the U.S. market.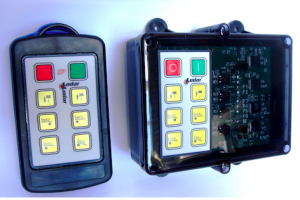 Lodar USA will now distribute domestically out of their new warehouse in Henrietta, Texas, with headquarters remaining in West Midlands, England. Lodar is a division of Skidmore 4WD, founded in 1987. Lodar units launched the following year.
The devices have proven wildly popular and reliable, bringing push-button response to heavy duty recovery.
They describe their lines of radio radio controls as "ever-increasing," as newer and broader controls are frequently released. Also increasing has been their market share, distributing to most countries through established distributors.
Over 90% of Lodar is manufactured in the UK, something the company is rightly proud of. Their success in U.S. has lead to the recent expansion, a change that was a longtime coming.
In Henrietta, Lodar will maintain a full stocking warehouse with the latest from the growing line as well as their signature units released at its inception.
Lodar units are often mounted inside the vehicle, by the dash or along the gear shift. They use radio signals to control the unattached equipment, using a winch in recovery work. A powerful receiver at the other end picks up the signaled actions from the controls or joystick instantly.
"We have been manufacturing LODAR for 20 years," their website proclaims, "and have built up a reputation for commercial quality and reliability."
LODAR equipment comes with a  5-year pro-rated warranty. 
More of the Latest in Equipment News