Sonetics Clarity for Loud Locales
By: Erez Kanaan, Tow Squad News. Published on:
Subscribe in a reader
Lessons Learned from Disruptions on 9/11
PORTLAND  l  After the senseless bombings at the Boston Marathon, the handling of communications between first responders proved an important factor in saving lives. While the connections weren't perfect, they proved far more reliable compared with what occurred on another dark day in American history.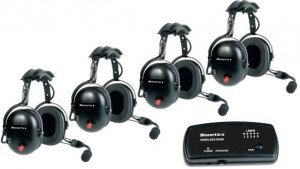 After so many jumbled and overlapping radio calls were lost on Sept. 11, 2001 as firefighters and police scrambled to talk with one another, the need for a solution became apparent. Investigations into the events of that day have repeatedly criticized the quality and reliability of radio traffic 
That's where Sonetics comes into play. The Oregon-based company specializes in integrated communication systems for those unique occupations where unreliable communications can put real lives at risk. For those heavy duty dispatches or manic roadside scenes, professionals know the value of clear contact can be crucial.
Building on more than 29 years of proven experience serving emergency responders and aviation personnel, Sonetics offers wireless headsets within integrated communication systems. Their team pioneered the development of completely self-contained, hands-free, full-duplex wireless headsets.
This patented technology allows team members to stay in continuous contact without being tethered to an intercom or belt pack.
Among their systems is the Sonetics Triton, rolled out two years ago at the Marine Expo in Seattle. This system allows for a 1600 ft. range while also monitoring up to two radio channels, providing PTT radio transmission from the users' wireless headsets.

The Triton headsets provide 24dB of hearing protection and are completely wire-free, with no external antennas, belt pack, or wires to snag. 
Sonetics always backs up their products with a two-year limited warranty and prides itself on outstanding support and customer service.
"We developed Triton systems as a natural extension of our proven fire and rescue communication systems," said Reed Stager, chief operating officer.
"Customers find that dependable handsfree work crew and radio communication, sometimes across long distances, can significantly improve effectiveness and safety for both small and large crews in windy or noisy environments."
More than half a million professionals worldwide currently use their systems, allowing for crisp contact when it matters most.
__________________________________________
Want to share your own story?
Contact Us
or call 888-603-2599.