Shuttle's Tow Tundra Heads to Exhibit
By: , Tow Squad News. Published on:
Subscribe in a reader
Lead 12-Mile Journey To Science Center in L.A.
LOS ANGELES  l  The powerful workhorse that tackled one of the greatest towing assignments in history took a moment in the spotlight itself recently.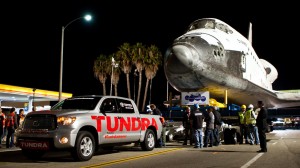 The Toyota Tundra full-size pickup that pulled the Space Shuttle Endeavour through the streets of Los Angeles to its new home at the California Science Center has itself now become an exhibit. In all the journey took 68-hours, covering 12 miles that snaked through freeways and neighborhoods alike.
The transport was truly a first of its kind. Rather than disassembling the massive wingspan of the shuttle, engineers instead altered the street route to meet the height and width clearance. This meant temporarily removing traffic lights, road signs and light poles.
The trip became a national spectacle as media outlets carried images of a space shuttle traversing surburbia in all its glory. Thousands turned out to line the streets along the route for a once-in-a-lifetime sighting. 
In an unveiling ceremony Jun. 7, the exhibit was included in a series commemorating the shuttle's final space flight, mission STS-134. The Tundra will remain operational as part of the new Giant Lever exhibition housed just outside the Shuttle complex.
The exhibit is a joint partnership between the California Science Center and Toyota Motor Sales, USA.
Former astronaut Garrett Reisman was on hand Friday. He flew aboard Endeavour on his way to a mission on the International Space Station in 2008, and also rode shotgun during much of the Tundra's route through L.A.
__________________________________________
Want to share your own story?
Contact Us
or call 888-603-2599.