Presidential Limo Towed in Israel
By: , Tow Squad News. Published on:
Subscribe in a reader
Mechanical Issue Not Related to Fuel 
TEL AVIV  I  President Obama's official limousine broke down Wednesday ahead of his first trip to Israel, requiring an area tow truck to be dispatched. The breakdown occurred during a dry-run prior to the president's arrival.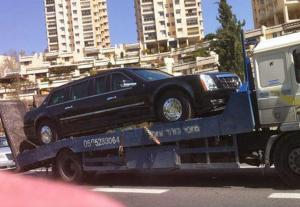 Towing "The Beast", as the series of highly-fortified presidential limousines are known, is not your typical yellow pages dispatch.  
Aside from its considerable weight, length and onboard technology, it also represents a closely-guarded set of security measures protected dearly by the Secret Service.
Yet the phone call made to arrange the recovery sounded almost like a cold call.
Owner Moti Matmon said his shop received a call from the US Consulate in Jerusalem around 10 a.m.  
"They told me that this was Obama's car," he told London's The Daily Telegraph.
"They didn't say what had happened to it," he continued. "They just said it had got stuck… The whole thing was very funny."
According to Matmon, he and his team loaded it up on an extended flatbed and transported it to an undisclosed garage.
Initial reports suggested that regular gasoline had been used instead of the required diesel fuel. This was later determined to be incorrect, with unspecified mechanical difficultly named as the culprit.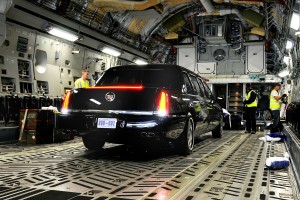 The more urgent issue Wednesday morning was not the disabled 9-ton first ride, but instead making sure the incident wouldn't delay the president's schedule or present any security risks. A backup Beast was flown in from Jordan as part of a multi-nation tour of the Middle East.
The Secret Service maintains these specially-ordered and extremely classified limousines. The fleet was delivered by General Motors, many built from a Cadillac DTS. They travel ahead of the president on domestic and international trips with their own security detail.
The limo broke down outside Tel Aviv between Ben Gurion Airport and Jerusalem during a test run of the route meant to be used by the president later in the day.
"This is why we bring multiple vehicles and a mechanic on all trips," said Secret Service spokesman Edwin Donovan.  
A similar incident occurred in Ireland in 2011 as one of the limos was exiting the U.S. Embassy in Dublin. That Beast became stuck while driving over an inclined entryway with the commander-in-chief on board, as captured in the video below.
As for Wednesday's job, shop owner Moti Matmon says he can't put an exact price tag on the complete recovery yet.  He did indicate to reporters, however, that the president would not be receiving a discount. 
In 2011, a presidential limo was also sidelined in Ireland…  

 
__________________________________________
Want to share your own story?
Contact Us
or call 888-603-2599.