NH: Tow Op Foils Jewel Thieves
By: Erez Kanaan, Tow Squad News. Published on:
Subscribe in a reader
Get-Away Car
Disabled At Crime Scene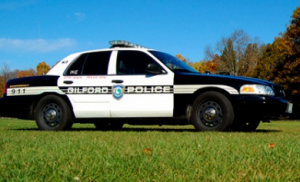 CONCORD, NH  l  A towing operator in New Hampshire is being credited with helping police identify and apprehend a pair of jewel thieves just days after he encountered them. Investigators say the pair had called for assistance after their get-away car became disabled, allegedly while they were burglarizing a residence.
The break-in police were investigating occurred in late March in the small community of Gilford. When they arrived at the Foxborough Drive location early that morning, they confirmed the forced entry and noted a large amount of property taken.
The most valuable items stolen included a considerable amount of jewelry.
While the interior of the property offered up few direct clues as to the identity of the perpatraitors, something about the front driveway caught the eye of Detective Dan O'Neill.
"There was this large, long rut, almost a full ditch," O'Neill said, speaking with the Union-Leader. "And there were tire marks, and other markings in the snow and dirt, that indicated a wrecker had been there recently."
After inquiring with several local towing outfits, O'Neill was able to locate one who'd been dispatched that morning to Foxborough Drive. He would soon confirm that it was to the same address as the break-in.
The driver, whose name was not disclosed, remembered the job alright. A man and woman were waiting at the address with their vehicle, which he says had become stuck in a ditch outside the home. 
A BOLO was soon issued for both suspects and their car, each based on the driver's account. 
The next day an officer spotted a vehicle that fit the bulletin and pulled it over. Inside were a man and woman who closely matched the suspects' descriptions. Also in the car, police reportedly located some of the stolen jewelry from the heist.
Arrested were Gordon Potter, 33, and Kerry Duggan, 26, both from Concord. They were each charged with one count of burglary and one count of criminal liability. 
As Potter was wanted for previously violating parole in an unrelated matter, he was transported to the Concord jail, and scheduled for a May 16 arraignment. Duggan was being held on $1,000 cash bail Wednesday at the Belknap County Jail pending her arraignment.
For Detective O'Neill, he now has one of the stories veteran cops tend to collect about unlucky cons. Most suspects don't have to call for a tow truck during the actual commission of their crimes. 
Lt. Jim Leach had to admit that they got pretty lucky.
"I was kind of amazed that we were able to find the tow truck driver," he said.  "He could have been from anywhere."
__________________________________________
Want to share your own story?
Contact Us
or call 888-603-2599.
Get More of the Latest in Towing News...