Estate of Tow Owner Burns to Ground
By: Erez Kanaan, Tow Squad News. Published on:
Subscribe in a reader
Home Purchased Only A Month Earlier
SPRINGFIELD  l  A 6,000-sq.-foot estate home belonging to a Massachusetts towing magnate was consumed by fire Friday night east of Springfield. No injuries were reported in the blaze, which leveled the home purchased only a month before.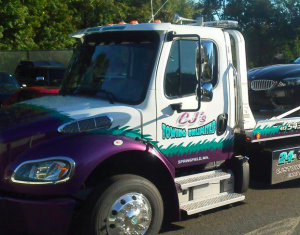 The sizable ranch sits on roughly 50 acres, purchased in March by Craig Morel, owner of C.J.'s Towing Unlimited. The company is reportedly the second largest towing outfit in the state, with dozens of heavy and medium duty trucks in their fleet, stretched across several locations.   
The fire began around 8:30 p.m. Friday in Hamden, a small community outside Springfield. For several hours firefighters worked to control the blaze.
Local media reports described it as an extended effort, with tanker trucks from several local fire departments lining the street. 
According to Morel, investigators with the state fire marshal's office told him the fire appears to have been sparked near the furnace system. At least one initial report suggested the fire had suspicious elements.
Morel told The Republican, a daily newspaper in Springfield, that he is not yet releasing any statement about the incident and is awaiting the investigation. 
Should investigators determine the blaze to have been intentionally set, they will likely look into the possibility that the company was being targeted. Also, with the property purchase so recent, the number of people who knew about the new location may be limited. 
Arson being used as a form of revenge against a towing firm is by no means unheard of. Each year a considerable number of fires are set to offices, salvage piles and even customer's vehicles, all in an apparent effort to strike out at a recovery operation.
Throughout April, Tow Squad News will be taking an in depth look at the realities of Arson in Towing, both in terms of how the law responds to the crime, and what shop owners can do to help prevent it.
 
__________________________________________
Want to share your own story?
Contact Us
or call 888-603-2599.
Find More Breaking Towing News...