Shop Fire Near Pittsburgh Ruled Arson
By: , Tow Squad News. Published on:
Subscribe in a reader
Family-Owned Business Open for Over Half a Century
VANDERGRIFT, PA – A fire that consumed most of a longstanding towing and auto repair business near Pittsburgh has been determined to be a case of arson, according to state officials.  The blaze began in the early morning hours of Sunday.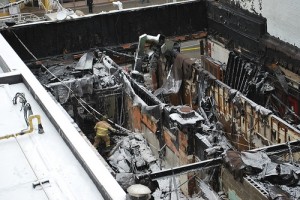 Kochka's Towing and Car Care Center has been operating from the Sherman Avenue location for over half a century, opening up in 1962.  The family-run outfit is something of an institution in the area.
Seventy-five year-old Paul Kochka opened the business in his twenties.  His wife Joyce told the Associated Press that he has "lost his baby."
The fire was an especially dangerous situation, considering the Citgo gas station that shares the property with Kochka's.  The outfit is located in a laregly residential area, but the flames were taken under control before they could reach the massive fuel depot at the station.
In addition to the repair shop and towing business, the Kochka's also handle much of the heavier lift jobs in Westmoreland County.  It was unclear at press time how much of their equipment, if any, was effected by the fire.
An early estimate of the property damage was placed at at least $600,000.
Vandergrift is a small Pennsylvania community about thirty miles north of Pittsburgh with a population of about 5,000.  A good number of them are rallying behind the Kochka family.  One of their drivers told Tow Squad News they do plan to rebuild.
A criminal investigation has officially been launched now that a state fire marshall determined that the blaze had been intentionally set.
__________________________________________
Want to share your own story?
Contact Us
or call 888-603-2599.