Bomb Scare At San Diego Tow Shop
By: , Tow Squad News. Published on:
Subscribe in a reader
Laser Pointer Spooks Vehicle Owner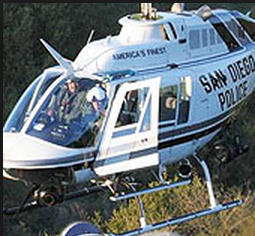 SAN DIEGO  l  While nerves were still very much on edge Tuesday following the attack at the Boston Marathon, police in San Diego were quick to respond to any potential threat, including a bomb scare at an area tow outfit that wound up being nothing more than a laser pointer.
Kearny Mesa Towing is located just north of the central business district in San Diego. On Tuesday, just minutes after a sudden blast killed three and injured over 100 others in Boston, something suspicious was spotted in a vehicle they'd recovered earlier in the week.
The device did look unusual, a 7-inch plastic cylinder with wires attached. At first account it resembled the very description of a stick of dynamite with a fuse attached.
Instead the item was later determined to simply be a slightly-disassembled laser-pointing tool, posing no real threat. Some had mistaken it for a blasting cap from a construction site.
Not yet knowing what it was, a 911 call was placed around 1:30 p.m. with San Diego Police and Fire-Rescue responding. A spokesman for Fire-Rescue confirmed the details of the suspicious item, along with what the van's owner told them.
According to the owner, he had loaned out the vehicle to a friend who'd become involved in an accident a short while later. The driver was hospilitzed from the crash, with the van being towed to Kearny Mesa.
That's when the owner arrived to collect his van, alerting staff members to the suspicious item. After some consideration, a decision was made to err on the side of caution.
As such, the Metro Arson Strike team was deployed from Fire-Rescue to render the unit harmless. After an X-ray examination of the device was conducted, a decision was made that it should be detonated by the strike team under a controlled setting. A short while later they exploded the device without incident.  
In all, the full response took just over four hours.

__________________________________________
Want to share your own story?
Contact Us
or call 888-603-2599.