Massive Clean-up After Coal Spill
By: Erez Kanaan, Tow Squad News. Published on:
Subscribe in a reader
 At least 6 Vehicles Totaled, 23 Tons of Coal Dust Spilled
MT. CARMEL, Penn  l   More than 23 tons of culm, or coal dust, was scattered across a business district in Pennsylvania after the dump truck hauling it overturned just before slamming into vehicles and a storefront. The initial clean-up extended for hours, and is still not entirely complete.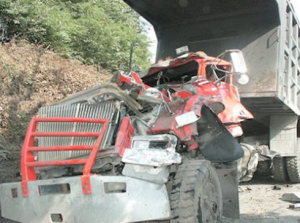 The scene occurred in Mt. Carmel Township in eastern Pennsylvania on Wednesday morning. The staff at Greco Service Station were settling into their day when they were jolted by the sound of the triple-axel dump truck toppling over on Route 61.
Police say the driver did not decelerate enough when attempting to turn into the coal processing plant when the rig toppled on him, and continued sliding directly toward the service station.
"I thought a bomb exploded," said John Schock, a delivery driver for Cal's Tire.
The 77-year old was standing inside Greco's and watched as the overturned truck quickly approached, snapping light posts and slamming into parked cars. It tore through Schock's delivery truck, barely losing momentum.
"If I had been in that delivery truck, I would have been killed," Schlock would later recount.
Two more vehicles were destroyed as the coal truck hit the front of the storefront, smashing out the plate glass windows and sending a black plume at least two stories high.
The driver, who was ejected from the cab at this point, did not sustain serious injury.
As the rig swung back from impacting the building, it smashed through a retaining wall, dropping the truck's cab down a short embankment. There it landed in another parking lot, crashing down on top of a minivan, still dangling from the attached rig in the upper lot.
In all at least six vehicles were damaged beyond repair as they were struck. The property damage to the business and attached garage was also considerable.
Some of the witnesses at Greco's had just enough time to jump clear or duck beneath the countertop as it all unfolded so quickly.
Amazingly no one was seriously hurt in the incident, which instantly cut power to the immediate area. Tow trucks were called in to right the rig, collect the cab and transport the vehicular causalities.
Likewise, dump trucks and clean-up equipment from the nearby coal plant were put to work gathering the now highly-dispersed cargo. A considerable amount was reportedly located on the rooves of neighboring businesses.
The driver, Ronald Dowd, was taken by ambulance to Geisinger Medical Center with cuts to his face and shoulder pain.
"If he wasn't ejected," said Mount Carmel Township Police Chief Brian Hollenbush, "he probably would have died."
Charges have not been filed, though the investigation is still ongoing.
The accident left both lanes closed along Highway 61 for nearly six hours.
__________________________________________
Want to share your own story?
Contact Us
or call 888-603-2599.
More of the latest in Towing News