A Silver Lining for Moscow Tows
By: , Tow Squad News. Published on:
Subscribe in a reader
Free Test Drive Offered to Stranded Motorists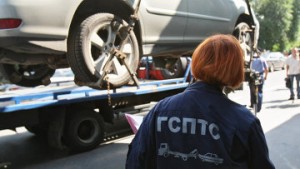 MOSCOW  l  Driving in the Russian capitol of Moscow has been likened to the American Wild West, where traffic laws are routinely ignored and enforcement varies widely.
The problem is so severe that dash-mounted cameras have become commonplace to protect drivers from both criminals and liability.
Towing in the city is a booming business, highly enforced and difficult to untangle from. Car owners have less options in place to protect against over-charging or predatory towing through industry oversight.
In Moscow, Mercedes hit a speed bump when rolling out their efficient but compact Smart Cars. Designed to economize in both space and fuel usage, the cars attracted little fanfare upon release.
It appears Muscovites, as they're called, prefer larger vehicles for a variety of reasons. Tradition seems to be the most apparent, where a vehicle of weight and size is associated more with power, just like in the U.S.
To overcome this obstacle, wherein most locals wouldn't even consider a smaller car, Mercedes devised a unique solution that capitalizes on the high number of towed vehicles from the heart of the city.
40 Smart Cars were dispatched in the pilot program, roaming the streets of Moscow looking for tows in progress. When the owner arrived to discover their car gone, they would be offered a free test drive of the Smart Car to get them to where they needed to collect their vehicle.
It would be a hard offer to turn down, as vehicles towed in Moscow are taken to a facility that's an hour-plus cab ride away.
During the initial campaign, which Mercedes called 'The Unexpected Test Drive,' 623 drivers accepted the offer over the 3-day period.
According to Mercedes, local sales of Smart Cars tripled in the two weeks immediately following the campaign, and new requests for test drives increased 10 fold.

__________________________________________
Want to share your own story?
Contact Us
or call 888-603-2599.