'Big Easy' Speeds Lock-Outs
By: , Tow Squad News. Published on:
Subscribe in a reader
From Steck Manufacturing of Ohio
DAYTON, Ohio – The standard 'Slim Jim' lock-out device the industry has relied on for decades has slowly evolved, bringing greater speed to the sometimes tricky task of popping a locked vehicle.  
At Steck Manufacturing in Dayton, they offer a variation on the task with 'The Big Easy.'  Like its predecessor, the device is designed for emergency access to locked vehicles.  Now commonly used by law enforcement and emergency services, they haven proven both remarkably useful and time efficient. 
Its approach varies from traditional lock-out device which penetrates a door panel by instead penetrating the cabin for direct access to the locking controls. The device can be fitted with both hooking and looping tools to trigger the lock knob or door handles.
With a length of 55" it is often used from the opposite side of the vehicle, or even from back doors to reach front locks.  The versatile kit includes wedges and paint protection shields. The newest version is available in a glow-in-the-dark yellow that helps better illuminate the working area.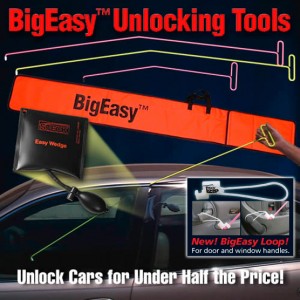 "The Big Easy', which is sold only to emergency services, locksmiths and auto shops, allows operators to unlock cars in seconds without damaging the vehicle or its paint job.
Steck Manufacturing originally started out as Steck's Paint & Body Shop by George Steck in 1946.  George expanded into manufacturing in the first few years with a fastener he developed for installing rear fenders.
Since then the company has been producing tools and equipment from the same Dayton location over half a century later.  George Steck's original body shop still remains in service as the company complex has grown around it.
 
When you're locked out, contact Tow Squad for fast roadside assistance.
__________________________________________
Want to share your own story?
Contact Us
or call 888-603-2599.