Wrecker Struck from Behind
By: , Tow Squad News. Published on:
Subscribe in a reader
Both Drivers Hospitalized
KNOXVILLE, TN – A tow truck driver in Tennessee has been hospitalized after his vehicle was struck from behind by a pickup truck after it had stalled out in traffic.  The driver of pick up was also taken from the scene by ambulance.
Elise Williams, 47, told police the sun was in here eyes as she turned onto North Illinois Avenue in the business district.  Her dark red 1999 Ford Ranger struck the flatbed with enough force to almost sheer off her entire roof.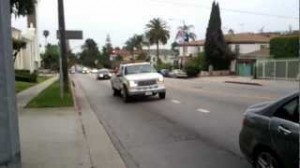 Charles Jones of Quality Towing had just returned to the cab of his wrecker when he was impacted.  He had stalled out just moments before and had stepped out to investigate the problem.  The 38-year-old resident of Oliver Springs was about to buckle up with the collision occurred.
The accident report lists that Williams was transported to Methodist Medical Center while Jones was sent to Parkwest Medical in Knoxville.
Williams was cited by police for not having proof of insurance.
__________________________________________
Want to share your own story?
Contact Us
or call 888-603-2599.