Winter Dispatch Brings Hours, Risk
By: Erez Kanaan, Tow Squad News. Published on:
Subscribe in a reader
Shops Gearing Up For Busiest Season
FRANKLIN, Ind. – With many parts of the country experiencing a spotty start to winter, the roads are slowly becoming slicker, and the risk more real.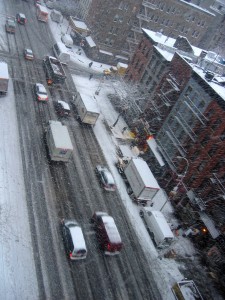 Last month the cold season hit hard in Indiana, with blizzard conditions stretching across much of the state.  The day after Christmas brought a storm front that buried roadways throughout Franklin County, where the team at Hix Wrecker Service operates.
They spent over 12 hours that day retrieving vehicles and drivers alike from the roadside snowbanks and ditches, according to Franklin's Daily Journal. During the early hours some jobs took more precedence, with blocked intersections or vital emergency routes.
The work continued into the night, when the snow eventually relented.  The next morning they were back at it, helping retrieve the many newly snowbound vehicles.  The normal wait time at Hix is typically around 20 minutes.  It quickly rose to beyond two hours.
For the day of the storm alone, the number of calls reported to the shop was over 100.
While the flurry of dispatch calls can be great for business, it can also bring a rushed work ethic.  The Federal Highway Administration encourages towing professionals to take the time needed for each job, and to follow enhanced safety protocols, such as road flares or traffic cones.
__________________________________________
Want to share your own story?
Contact Us
or call 888-603-2599.