Tow Trucks Honor Indy Medics
By: , Tow Squad News. Published on:
Subscribe in a reader
'Loop For Life' Involved Over 20 Trucks
INDIANAPOLIS, Ind. – Last week a group of tow truck drivers banded together in Indiana to honor two medics killed days earlier while headed to an accident scene. The drivers of over 20 trucks participated in a procession circling I-465, near the site of the loss.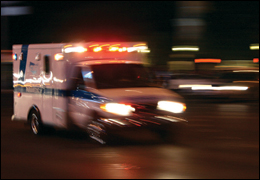 Tim McCormick was killed on Feb. 17 when a black Honda traveling through an intersection struck the ambulance with such force as to overturn it, where it slid in to another vehicle. A second medic, Cody Medley, died from his injuries about 24 hours later.
Police later identified the driver as 21-year-old Indiana resident Jade Hammer.  The incident report indicated that some officers detected the odor of alcohol on her breath when questioning her about the accident. 
Hammer was taken to Wishard Memorial Hospital for superficial injuries, where a blood-alcohol test was rendered.  Those results have not yet been made public, though Hammer did indicate to police that she'd had a small amount of alcohol that night.
Prosecutors have not yet announced any charges.
In the towing community, many area professionals could immediately relate to the tragedy.  Rarely does a week pass that doesn't include a story of a serious injury or fatality of a colleague somewhere in the nation.
This month alone has seen multiple such incidents, including the loss of Ron Carver from Platinum Tow and Transport in Malibu California, killed during a hit-and-run while assisting a stranded motorist.  
The driver, a 44-year-old local woman named Jill Rose, was later arrested.  In addition to the felony charge of leaving the scene, she will also face one misdemeanor count of vehicular manslaughter.
This ongoing senseless loss is partly what lead driver Greg Harper to organize 'The Loop for Life', a caravan of over 20 local trucks honoring those lost with a single lap around greater Indianapolis. 
"We work with police, fire and ambulance every day all around the United States," Harper told WISH-News. "You know, they would protect us. And, if it was us, they would do the same thing."
__________________________________________
Want to share your own story?
Contact Us
or call 888-603-2599.