Manslaughter Charge in PCH Hit-and-Run
By: , Tow Squad News. Published on:
Subscribe in a reader
Driver Arrested At 2nd Crash Site
MALIBU, Calif. – A Santa Monica woman is expected to surrender herself for arrest on Thursday on charges related to the Feb. 11 death of a towing operator.  The driver had allegedly fled the scene as the man lay dying.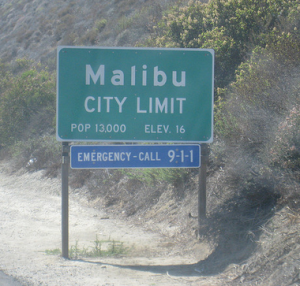 Jill Rose, 44, is to be charged with one count of felony hit-and-run and a single misdemeanor count of vehicular homicide.  Investigators with the L.A. County Sheriff's Department have indicated further charges may follow.
Ronald Carver was struck and killed that night in Malibu, a high-end swath of coastal real estate just outside Los Angeles.   He was assisting a disabled motorist alongside the Pacific Coast Highway when Rose, according to police, hit both Carver and his tow truck at a high speed.
The owner of the disabled vehicle reportedly told investigators that a gray Audi ramped off the tow truck doing a complete barrel roll, landing on its wheels before proceeding onward.  This account would suggest the driver must have been aware of the impact at the time.
Rose would be arrested just a few blocks away, after reportedly crashing into a parked car. Prosecutors have left the door open to additional charges pending toxicology results and a full investigation.
Ronald Carver was 45, and worked for Platinum Towing and Transport in nearby Camarillo.   Owner Bill Paymard has been accepting donations for the family at their shop.
"This was a very senseless act that leaves three kids fatherless," Paymard told the Malibu Patch.
According to his obituary, Carver and his wife Kristy have two daughters and a son. He was described as someone who never met a stranger, and an avid Volkswagen enthusiast. He leaves behind an extensive family still coping with their loss.
Following her arrest, Jill Rose was immediately hospitalized with head trauma.  She has remained in a rehabilitation facility since the accident, but will leave Thursday to surrender for the charges.
It is believed she will immediately post bail and be released pending trial.
__________________________________________
Want to share your own story?
Contact Us
or call 888-603-2599.