'Tow Plow' Gets Mich. Trial Run
By: , Tow Squad News. Published on:
Subscribe in a reader
Gaining Traction With More DOTs
KALAMAZOO, Mich. – The Michigan Department of Transportation began a limited trial run Tuesday of a 'Tow-Plow' unit along Interstate 94 near Kalamazoo. The agency plans to test the feasibility of using such add-on plows over the next few weeks.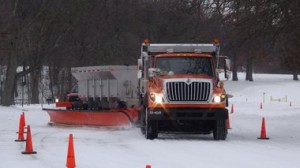 The Tow-Plow is essentially a standard plow truck connected to a towing rig that can swing out to clear a second lane of traffic at once. Tow-Plows are manufactured by Viking Cives, both in Ontario and in Missouri.
Several other states including Maine and Wisconsin have started implementing the cost-saving option in recent years. 
MDOT spokesman Nick Schrippa acknowledged that his department was intrigued at a technology that could theoretically double the efficiency of their trucks.   
When you're stuck in the snow, contact Tow Squad for fast roadside assistance.
__________________________________________
Want to share your own story?
Contact Us
or call 888-603-2599.