Tow Op Saved By Stranger
By: Erez Kanaan, Tow Squad News. Published on:
Subscribe in a reader
Driver Pinned Between Vehicle and Fence
INDIANAPOLIS – A tow truck driver in Indiana was nearly crushed to death last week, but was saved by a quick-thinking stranger and a handgun.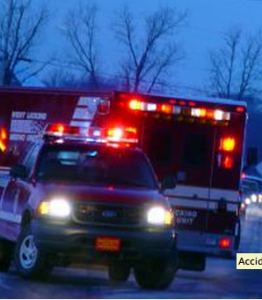 A towing operator had been dispatched last Sunday to North Emerson for a standard disabled vehicle call.  According to witnesses, he was attempting to position the car for hook up when it began rolling down a slight incline.  
The operator suddenly became pinned between the hood of the car and a wire fence line.  The pressure immediately began restricting his oxygen intake severely.    
The owners of the vehicle began to frantically call for help from passing motorists.  This is when Jamaryon Middlebrooks arrived on the scene.  He jumped from his car and assessed the scene.  That's when he raced back to his vehicle to retrieve his handgun.
Recorded calls to 911 indicate that the operator was pinned for around five minutes, and witnesses describe him already "turning blue" by the time Middlebrooks arrived.  The gunfire from his weapon can be heard on the 911 tapes, confusing the caller.
Middlebrooks discharged nine rounds directly at cable, separating it from the fence.  The crowd was able to quickly get the towing operator to the ground.  He was unconscious, but was revived at the scene by another passerby.
VIDEO: Report by FOX-59 News
__________________________________________
Want to share your own story?
Contact Us
or call 888-603-2599.