Tow Driver Hits $100K Lottery
By: , Tow Squad News. Published on:
Subscribe in a reader
Prize Winner Also Victorious on the Race Track
ATLANTA –  Tow truck driver Dorough Bright of Newnan, Georgia is celebrating two major victories this summer: his renowned speedway racing, plus the state lottery prize he recently claimed.  The $100,000 prize-winning ticket was purchased at Get N' Go in nearby Whitesburg. Bright lives about 40 miles southwest of Atlanta.
The 54-year old Bright has not yet indicated how this will affect him professionally.  While many large cash winners retire early or move into part time work, some who claim even millions in prize money continue to maintain their jobs.
Bright's amount may not be life-changing, but certainly can bring more security and options.  One plan he has speculated on appears to be on the agenda.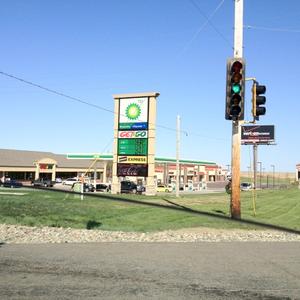 "I'll probably take all the grandkids to Florida" for a beach vacation he explained to reporters while claiming his winnings in June.  Bright and his wife have 6 children and a total of 10 grandchildren.
Bright's Facebook page coyly suggests that he is a fan of race tracks, when in reality it goes a bit deeper then that.  He is actually a race driver himself.
The Newnan Times-Herald, which reported on Bright's lottery victory, also spotted him in the winner's circle at the Jewel Series Ruby Race last month. Dorough defeated mini-stock driver Gary Parker, the defending champ.
Dorough's son Brandon was also participating in a race that night, in the lead until his engine blew.
The Georgia State Lottery is designed primarily to raise state education funds, ranking fourth in the nation for returns. Bright played a game called "50X The Money," which awards players up to $1 million. The Lottery has raised over $13.4 billion for the state over the past two decades.
Want to share your own story?
Contact Us
or call 888-603-2599.