Tow Shop Owner Does Detective Work
By: , Tow Squad News. Published on:
Subscribe in a reader
Tracks Down Video of Thief for Police
SALEM, Ore  I  An Oregon towing operator is doing a bit of detective work to hopefully nab the thief who broke into his tow truck and made off with a bag containing a handgun, and the driver's wedding ring.
Greg Butler had joined up with his wife to meet some friends for dinner at an Olive Garden the week before last. In his truck, Butler had left a computer bag he used to carry his most important items. As a precaution, he always stashed the bag out of sight when locking up the truck.
While dining inside, someone apparently used a screwdriver to jimmy the lock – making off with just the bag. Also inside was Butler's wallet, some cash and a gold watch.
"I've carried that stuff around with me for 30 years," Butler tells KPTV-News. "And a lot of the stuff means a lot to me.
Many married professionals who work closely around vehicles will habitually remove their wedding rings, in part to protect the jewelry and in part to protect the paint job.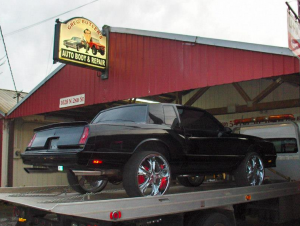 When Butler discovered the crime, he quickly notified police.  Not wanting to sit idly by, he contacted his credit card company to inform them of the theft.  When he learned that the card had just been used moments earlier at a fast food place, he quickly sprang into action. 
Catching the thief himself was unlikely, but the least he could do was help the police investigation along.  Butler began visiting the businesses his card was used at that night to inquire about surveillance video.  At a gas station where the thief purchased cigarettes and energy drinks with his credit card, Butler was able to secure footage of the man in question.
Police are investigating the incident, though it is unlikely the video evidence would have survived without Butler's intervention.  Many businesses quickly recycle their surveillance footage by recording over it.  Also doubtful is whether the Salem Police could devote the manhours needed for Butler's gumshoe work.
The overall value of the stolen goods amounts to roughly $2800, with damage to the truck estimated at just over a thousand.
While the crime might not be major in scale, the few items stolen from Butler held high sentimental value.  What may have looked like just an old gold watch or just a standard handgun actually holds great meaning to him.
"It really stinks, to lose the stuff that I don't know I'll ever get back," said Butler. "The first couple of nights I stayed in my office on a cot because I was upset about the whole thing. I was sick, sick to my stomach."
__________________________________________
Want to share your own story?
Contact Us
or call 888-603-2599.