Top Op Records Arsonist in Action
By: , Tow Squad News. Published on:
Subscribe in a reader
Aussie Police Seeking Witness, Videotape
SYDNEY, Aust. – Police in Australia are searching for an unidentified tow truck driver in relation to an arson case.  Not because they believe he set the fire, instead because he supposedly videotaped it.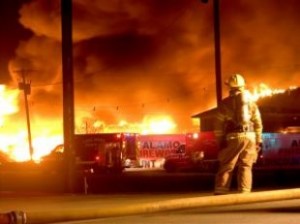 In Winston Hills outside of Sydney, emergency services were called to a large and sudden blaze stretching across a sizable traffic island at an intersection. The blaze covered a patch of trees and grass nearly 100-feet wide, indicating an accelarant was used.
When firefighters arrived they were soon approached by a tow truck driver.  He claimed to have used his smartphone to record the arsonist in action.
According to the unidentified man, he taped a male child setting the blaze and then taking off on foot.  Unfortunately the witness took off before police could get more detail, or a look at his video.  
Police have put out a request through the local media that he get in touch with investigators as soon as possible.
In New South Wales, the Australian state that includes Sydney, intentionally-set brushfires are investigated by Strike Force Tronto.  It consists of fire personnel and property crimes detectives, coordinating their efforts across several jurisdictions.
__________________________________________
Want to share your own story?
Contact Us
or call 888-603-2599.