Van Ignites During Hook-Up
By: , Tow Squad News. Published on:
Subscribe in a reader
Michigan Tow Ops Surprised by Sudden Flames
MONTCALM COUNTY, MI – A van unexpectedly caught fire while being loaded onto a tow truck in July near Grand Rapids.
Following a two-vehicle collision involving the van, tow operators were attaching it onto a transport truck when operators noticed flames coming from inside the vehicle.  This according to the Montcalm County Sheriff's Department.
Emergency services were called immediately and firefighters and police from the Greenville Department of Public Safety responded. Traffic was re-routed and and firefighters were soon able to get the flames extinguished without injury.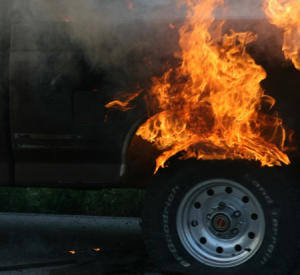 The accident leading up to the fire took place during 5pm traffic at the intersection of M-57 and Satterlee, just outside of Grand Rapids.
A 60-year old Gowen man didn't stop his full-sized van at the red light heading westbound on Michigan 57. As he was traveling through the intersection, he ran into another vehicle making the turn east off of Satterlee Road.
The driver he struck was taken to nearby Spectrum United Memorial Hospitals due to complaints of neck and back pain. The faulted driver was ticketed for disregarding a traffic signal. He refused treatment from medical personnel who responded to the accident.
Unclear was the exact cause of the blaze, whether ignited from crash damage to the vehicle or from some other source inside the van.
No one was injured and the tow operators were able to transport the charred vehicle once the fire was doused.
Want to share your own story?
Contact Us
or call 888-603-2599.