TX Firm Serious About Community
By: , Tow Squad News. Published on:
Subscribe in a reader
Active With Several Positive Programs
HOUSTON, TX – The team at Milstead Automative in Spring, Texas clearly takes community involvement to heart.   Located in Montgomery County just north of Houston, they were founded in 1971 as a two-door garage.  Since then they've grown to a 29-bay facility with the largest towing fleet in the area.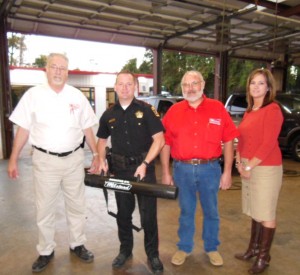 Equally impressive is their sense of giving and community involvement.  They recently donated a 'doorknocker' to local government, essentially a battering ram used by police and fire personel to force open doors.  Just before that, Milstead held a classic car show to raise funds for Montgomery County Youth Services.
Currently the crew at Milstead is gearing up for their 3rd annual video contest, a campaign against driving-while-texting. The contest is open to area high school student drivers, and asks them to compile a short video against mixing the two activities.  The deadline is in March, with the winner receiving $500 in cash and prizes.
Dick Milstead founded the company and now serves as CEO.  His daughter Amy is the president, and she very much grew up around the garage.  She's worked most of the jobs she now oversees.
Amy currently serves as chairman of the board of Texas Towing & Storage Association.   She's an environmental conservationist, and works to make Milstead as green-friendly as possible.  Last year, Amy was honored with the Woman of Distinction Award from Montgomery County Women's Council of Organizations for her work with the youth charity.
__________________________________________
Want to share your own story?
Contact Us
or call 888-603-2599.