Motorcycle Ride Honors Tow Operator, Benefits Wildlife
By: , Tow Squad News. Published on:
Subscribe in a reader
Father of Two Killed At Roadside, Life Celebrated By Bikers, Towing Community
ONTARIO – Friends and family honored a fallen tow truck operator Saturday with a motorcycle ride to raise funds for his favorite wildlife charity.  They dubbed it "Ride on the Wildside," with over sixty bikers participating.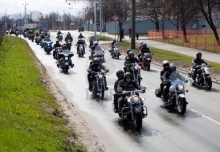 It was all in memory of Paul Rocheleau, who was struck and killed while changing a tire near Ontario Highway 3 in January.  Some of his biker friends organized the event, with proceeds going to Wings Rehab Center, a facility that helps injured and oprhaned animals.  Rocheleau was a frequent volunteer along with his daughters Beth and Angel.
Rocheleau was killed in January while changing a flat tire near Highway 3 in Ontario.  At the time of his funeral, the procession included over twenty tow trucks from shops around the area who came to honor his memory.
His brother François Rocheleau commented at the time to CBC News that "We were just blown away by all the people that showed up and the support and love that was shown for him.. the procession of tow trucks was really special."
That spirit continued with Saturday's ride.
Beth Rocheleau said "It made me very, very happy. The weather stayed nice so that was great."
Her sister Angel participated in the ride.  She used to help her father deliver supplies to the charity before he died.
"It was emotional but it felt good to be on a bike again," she said.
Want to share your own story?
Contact Us
call 888-603-2599.