Pregnant Wrecker Thief Pleads Guilty
By: , Tow Squad News. Published on:
Subscribe in a reader
Leads Police on High Speed Chase
CANTON, Ohio – An Ohio woman has pleaded guilty to stealing a tow truck with her repossessed vehicle attached, engaging in a high speed chase with police, crashing the wrecker into an unoccupied home – all when she was eight months pregnant.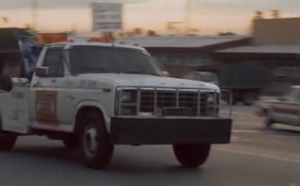 It was in September that Tow Squad reported the initial arrest of Sophia Davidson, a Canton resident charged with several counts stemming from the incident.
The incident began on Sept. 30 of last year when towing operator Ed Meadows, a driver from a reposession outfit, was hooking up Davidson's Mountaineer.  According to Meadows, she began trying to physically pull him away from his work.  As he continued his work, he suddenly heard the door to his truck close.
Davidson sped off in the wrecker with her vehicle still attached.  Five police cruisers were involved in the chase, which ended when Davidson crashed into a single-story unoccupied home. A sizable portion of the front wall of the home was punched through.
It was only later in court that her condition was revealed.
Davidson pleaded guilty to charges of failure to comply with police, two counts of vehicular theft as well as misdemeanor counts of reckless operation and resisting arrest.
The most serious charge is failure to comply, which carries the potential of five years in state prison.
Stark County Judge Taryn Heath has set sentencing over for Jan. 30.
__________________________________________
Want to share your own story?
Contact Us
or call 888-603-2599.