CO Police Locate Tow Spree Suspect
By: , Tow Squad News. Published on:
Subscribe in a reader
Most Collisions From Stolen Medium Duty
DENVER I A Colorado suspect is a facing a litany of felony charges in multiple jurisdictions after reportedly causing a string of collisions in stolen vehicles.  Most of the accidents involved a tow truck stolen in Aurora before the suspect escaped north to Boulder, where he surrended to police.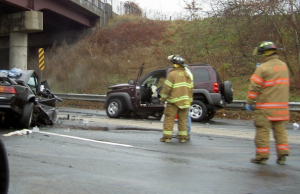 Monday morning, Adam B. Manlove, 26, seemingly began a senseless pattern of stealing vehicles, crashing them while fleeing police, taking off on foot and then repeating the process. In all police chased him in four separate vehicles, leaving eight accident scenes in his wake.
Half of those collisions involved a medium duty tow truck stolen from Express Towing in Aurora.
This is the same Colorado community that last year saw the massacre at an area movie theater that killed 12 people and injured 58 others. The suspect in that case, James Holmes, is expected to enter an insanity plea in court Tuesday in Denver.
Most of the collisions occurred in Aurora and neighboring Denver, with some minor injuries at a number of impact sites.
One of the victim's most shaken by the accidents was a pregnant woman whose vehicle was suddenly impacted from behind. Katie Winberg told local reporters that the tow truck barreled ahead after striking her car, nearly colliding with other vehicles in the intersection.
Police say it was in the parking lot of the National Center for Atmospheric Research in Boulder that Manlove finally gave up running, surrendering to officers without incident. Some reports indicate he phoned police confessing to the crime, asking to be apprehended.
No motive was suggested by authorities for the cross-state crime spree.
The fact that so many high-speed collisions occurred without serious injury has left many feeling fortunate.  Also lucky, some say, is that local law enforcement officers did not over-react to the sudden senselessness behavior in a community still very much on edge.
Manlove was turned over by Arapahoe Sheriff's Deputies to Denver Police. After being checked out an area hospital, he is now being held at the Van Cise-Simonet Detention Center in downtown Denver.
__________________________________________
Want to share your own story?
Contact Us
or call 888-603-2599.