NJ: Body Found in Burning Tow Truck
By: , Tow Squad News. Published on:
Subscribe in a reader
Gender Still Undetermined, Autopsy Today
WARREN COUNTY, N.J. – Police in New Jersey are reaching out to the local towing community to hopefully help identify the remains of a body discovered in a burning tow truck over the weekend.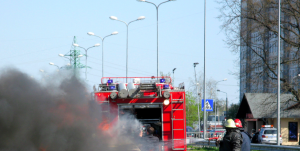 The truck was found in Warren County, about two hours west of New York City.  
It was discovered on Route 80 westbound, at a scenic overlook spot early Saturday afternoon.
State police responded to the call along with the Knowlton Township Volunteer Fire Department.  The blaze was quickly extinquished, at which point officers discovered the corpse.
Officials indicated the body was so severely burned that it is not yet known if the deceased was a man or woman.  An autopsy is expected to be conducted today.
Also unclear was the cause of the fire, and ownership of the tow truck.
The New Jersey State Police are investigating.
UPDATE     (Feb 25 7:29 p.m. EST)
According to The Express Times of New Jersey, prosecutors in Morris County are withholding further results from Monday's autopsy and declining to release more detail about the victim.  
This may be out of deference to notifying family members.  An investigation is ongoing.
First Assistant Prosecutor Michael McDonald also could not confirm if fire was the actual cause of death, or if any elements of the fire suggest foul play.  
__________________________________________
Want to share your own story?
Contact Us
or call 888-603-2599.