TN Tow Op Saves Crash Victim from Fire
By: Erez Kanaan, Tow Squad News. Published on:
Subscribe in a reader
A Towing Hero From Smyrna, TN
SMYRNA – The small town of Smyrna, Tennessee, just South of Nashville does not make national news often, but local tow truck operator John Murray did for his heroic efforts to rescue a crash victim from an overturned flaming semi truck.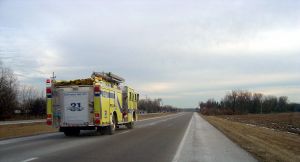 The accident occurred on Eastbound Interstate 24 in Rutherford County on early Saturday morning when the semi collided with a Ford Escape SUV. The semi then slammed into a wall before tipping over and catching on fire.
Murray told Nashville TV station WSMV that the semi "landed on its side and slid 500 to 600 feet. It was on fire and the man was still inside." Murray, who works for Easy Towing in La Vergne, rushed to the scene with another driver to help the victim.
Although Murray told the semi driver to kick the windshield glass outward, the trapped driver was unable to do it, as his pelvis appeared to be broken. Instead the two rescuers smashed the windshield and retrieved the driver from of the burning semi.
The raging fire was so strong that Murray and his partner risked their very lives to save the stranger. The truck became completely engulfed in flames moments after the man was pulled to safety.
"We knew we had to get him out of the truck. No one would have lived through a burn like that," Murray told a reporter. "All we could think to do was get him out of the truck."
The victim was taken to Middle Tennessee Medical Center, according to police. His name was not released.
Video footage of the burning wreck was taken by Murray and lead local newscasts. Murray told WSMV News, "all I could tell him was 'buddy, you've got to kick this windshield out. Your truck's on fire, it's going to explode. "
Traffic was shut down for several hours while emergency crews cleared the wreck. Murray has seen many interstate collisions, but none this dramatic.
"If you look at the Ford Escape that got hit you would say okay, that's too bad," Murray remarked. "But when you look at the semi that hit the Escape, wow!"
Want to share your own story? click here to contact our news editors, or call 888-603-2599.