Bee Hive Cargo Delays Recovery
By: , Tow Squad News. Published on:
Subscribe in a reader
Scene Swarming With Just-Crashed Bees
AUSTRALIA – A towing operator in Australia had to wait overnight for several hundred bees to clear the area before he could retrieve a vehicle that had been hauling them when it crashed.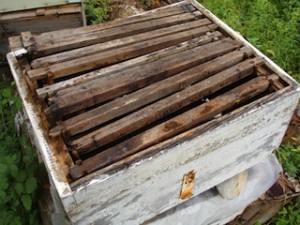 The one-car accident occurred yesterday in Ravenshoe on the northern coast of the continent.  A local man was hauling multiple hives when he lost control of his sedan and slammed into a tree.  The driver was uninjured in the impact.
The bees, however, were jostled quite a bit, and seemingly became agitated from the incident.  There was concern they might be overly aggressive in such a state.
The tree had fallen directly atop the hood of the car, essentially pinning it into place on the road.  A tow truck was called to clear the scene, but that quickly proved problematic.
When firefighters had first arrived, they quickly determined that no one was hurt.  This left two new challenges to deal with, a road now partially blocked to traffic, and hundreds of bees were still swarming the site.
"The bees were not happy," said a spokesman for Queensland Fire and Rescue.
One firefighter attempted to rescue the hives using his gear and breathing apparatis as cover.  This was called off after he was stung multiple times, though he was able to move the hives to outside the vehicle.
The decision was made to leave the hives in place until early morning hours when the bee activity would settle.  The driver would return to collect his hives, and the tow operator could then clear the scene.
__________________________________________
Want to share your own story?
Contact Us
or call 888-603-2599.