25 Cars Stolen With Tow Truck
By: , Tow Squad News. Published on:
Subscribe in a reader
Sold To A Single Area Scrap Yard
NEW YORK, NY – A 48-year-old Bronx resident has been charged with a laundry list of felonies after police say he used a tow truck to steal 25 vehicles, then illegally sold them all to a single scrap yard.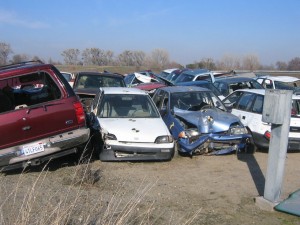 Filip Malave could be facing decades behind bars if convicted on all counts, which include dozens of forgery and false statement charges, plus numerous counts of possession of stolen property and grand larceny.
The scrap yard in question, New England Used Auto Parts in Baychester, N.Y. is adamant they knew nothing of the scheme, and point out that no one at their location was charged by police.
Police believe that throughout December and January, Malave used a self-loader tow truck to snatch up unattended vehicles, almost always in the immediate Bronx area.  
Almost all of the cars in question were 1990's sedan-style vehicles of decreased value.
Not long after he allegedly sold his final car to the unsuspecting scrap yard, police tracked him down to make an arrest in late January.
Police believe Malave used an I.D. he'd found in one of the first vehicles he targeted, giving that man's name and address as the owner of each subsequent car sold to the yard.  
He was reportedly paid about $450 per vehicle, with most being quickly crushed and sold for metal.
The arrest report did not specify ownership of the tow truck used in the crimes.
__________________________________________
Want to share your own story?
Contact Us
or call 888-603-2599.