Florida Tow Show
By: , Tow Squad News. Published on:
Subscribe in a reader
brought to you by
The Professional Wrecker Operators of Florida
April 11 – 14, 2013 @ The Orlando Hilton
.
 

on hand this year

….
Tow Truck Beauty Contest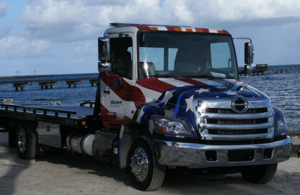 Bring your show truck and compete for trophies and prizes. Be part of the largest display of trucks from around the country. Expanded display area fits even more trucks. Free T-Shirt and Tow Times Cap to every entrant.
…
6th Annual USAC/MD 




Charity Golf Classic
Swing into action at the beautiful Celebration Golf Course and enjoy 18 holes Thursday April 11, 2013. Benefiting the International Towing and Recovery Museum's Survivor fund. Call 770-967-8405 for more information. Get a Hole-In-One and win a Miller Industries Tow Truck.
…
Tow Truck Raffle
Buy a $10 raffle ticket, or buy two or three, for a chance to drive home the PWOF 2013 Raffle Truck (pictured above) – a fully loaded Hino 258 chassis with air brakes, air ride suspension and aluminum wheels on a Miller Industries Century 12-Series LCG steel carrier with independent wheel-lift, removable rails, diamond plate bed and LED light bar and lighting.
…
Fun for All Ages
This year, kids will enjoy building NASCAR race cars and compete in a remote control driving contest. Make sure your "little towers" don't miss their chance to take home their own 
checkered flag winner.
…
Driver Training
Two-day light- and medium-duty driver training class. Classroom & hands on. Limited seating so reserve your space early by completing the form below and faxing it with payment information to 407-296-6335.