NYC Workers Sue Tow Firm Over Pay
By: , Tow Squad News. Published on:
Subscribe in a reader
19 Former Employees Seeking $600K
BROKKLYN  I  A group of former towing workers in New York has filed a lawsuit against the owners of a towing outfit for extensive unpaid wages.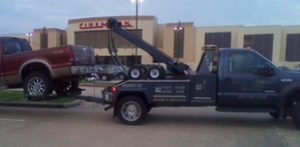 Runway Towing Corp. was named in the suit filed by 19 individual employees who claim owners Chris and Cynthia Pritsinevelos failed to meet minimum wage requirements, or to pay for overtime. The suit seeks damages totaling $600,000
The company holds the exclusive contract for towing along Brooklyn's Belt Parkway, and is also contracted for work with the Fire Department of New York and the Metropolitan Transportation Authority.
According to workers, they were paid a flat rate of $40-120 for working a 12-hour shift.  Some worked ths arrangement six days a week for several months, according to the suit.
The workers say they were promised increases in pay that never came.
"He always had an excuse," said former driver Christopher D'arpa. "He would tell me to wait until next week or next month."
The suit was filed in Brooklyn Federal Court and is set to be heard sometime in April.
Chris Pritsinevelos has denied the claims and tells the NY Daily News he intends to fight the allegations in court.
"They all got everything they were promised to be paid," he said. "Now they want to turn around and say no. Everything is false allegations. None of this is true."
According to lawyer Gary Rosen, many of the individuals were in no financial position to stand up for their basic worker rights.
"They had no choice but to take the job," he explains. "These are people who had no money. They lived paycheck to paycheck and the employer took advantage of them."
__________________________________________
Want to share your own story?
Contact Us
or call 888-603-2599.
More of the latest in Towing News