Utah Man Commandeers Tow Truck
By: Erez Kanaan, Tow Squad News. Published on:
Subscribe in a reader
6 Days in Jail After Car Booted
PROVO, Utah  I  A man in Utah was arrested last week after police say he became violent toward a towing operator in the parking lot of his apartment complex. The tow truck driver involved says he was just doing his job.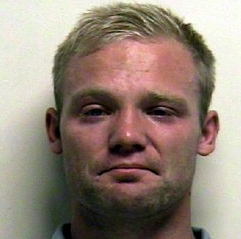 Garrett Barfoot had reportedly just moved in at the Branbury Apartments where his vehicle was parked on March 12.  The management contracts a private recovery firm to patrol the lot for vehicles without an authorization sticker. Barfoot's car did not yet have the decal.   
The car was never transported, only booted instead.  Towing operator Clint Black was preparing to leave the property when he says he was approached by a "vular and belligerent" Barfoot.
After the tow truck driver explained several times that there was nothing he could do, and the man would have to contact the management, things became more heated.
Black got into his truck to leave the site when he says Barfoot jumped into the moving cab and grabbed the steering wheel.
"He jumped into the car and tried to steer me into parked cars." Black told KSL-News.
As he fought with Barfoot, Black says he was able to park the vehicle and phone police. At this point, Barfoot is alleged to have stolen the keys to the tow truck.
When deputies from the Utah County Sheriffs Department arrived, they took Barfoot into custody under charges of assault and robbery. Tow Squad News confirmed that an additional charge of unlawful detention was also before the magistrate.
This lesser charge is similar to kidnapping, but usually involves holding someone against their will temporarily. It is frequently attached to carjacking prosecutions.
To make matters worse for Barfoot, his roommate says he has subsequently been evicted him from the property.
He was released Monday having served six days in the county jail.
Reportedly, the fee to release the boot was less than $50.
 
__________________________________________
Want to share your own story?
Contact Us
or call 888-603-2599.
More of the latest in Towing News